A Safety training platform for multiple employees in multiple locations!
Corporate Safety Event? Safety Meeting? Or simply looking for a better way to provide safety orientation to your employees?
Check our online streaming platform with Charlie Morecraft, one of the world's most successful Safety Motivational Speakers, available to your whole organization 24/7!

To sign up for the Online Streaming Platform is easy:
Select the length of the Agreement, with a minimum of 1 month.
Pay the license via our website and receive your access LINK, which will allow you to login immediately and watch the content!
Share the LINK with your employees so they can also enjoy the VIDEO STREAMING!
Ready to Sign Up?
Click the button below and proceed with the checkout. We will provide your login credentials usually within 4 hours from the time we receive your order!
Need more information? We can help!
Fill out the form below and our representative will contact you shortly!

Other Safety Products you might be interested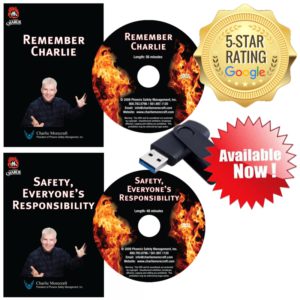 Motivational Safety Video Combo
Our Best Seller Combo! "Remember Charlie" and "Safety, Everyone's Responsibility" are amongst the most acclaimed safety motivational videos in the world. A MUST for any company looking to drop accident rates! Use these videos to help creating a POSITIVE SAFETY CULTURE AT WORK and change people's attitudes towards safety once for all. Ideal for safety meetings, employee orientation, corporate events, on-going safety training, and Safety Stand-Downs.